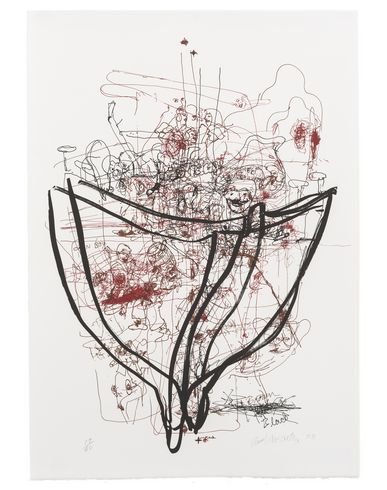 Untitled 15 (Pirate Boat), 2008 - Ed. 15/30
For further information about this artwork feel free to
contact us
COMPOSITION

Paper

MEASUREMENTS

Height 102.5 cm,

Width 72 cm

DELIVERY TIMES & COSTS

You will receive the artwork in 15 to 20 days.

Due to special handling and documentation, we require a little longer than our usual delivery times.

Returns can be requested within 15 days of receipt of the item.

For detailed instructions please

contact Customer Care

.
DETAILS

Untitled 15 (Pirate Boat), 2008. Lithograph on BFK Rives. Ed. 15/30. Dimensions are 102.5 x 72 cm / 40 3/8 x 28 3/8 inches. Hand-signed, numbered and dated bt the artist on front. The lithograph is connected to one of Paul McCarthy major projects of the last decade, the so-called Pirate Project or Caribbean Pirates. The lithographic process consisted in a direct drawing by Paul McCarthy on mylar, then transfered on aluminium plate. This is a real original lithograph, not made from scanned drawings.
ARTIST

One of the most sacrilegious, irreverent, graphic and amusing artists of our time. Paul McCarthy has pushed the boundaries of aesthetics and sense of contemporary art towards landscapes where primordial chaos becomes an organized cosmos of garbage, chocolate, ketchup, naked puppets, bodily fluids and plastic inflatables. Openly anti-system, yet supported and loved by the system, Paul McCarthy is the master of paradox and provocation, albeit built on solid theoretical, conceptual and formal foundations. Just as you can't judge a book by its cover, you can't judge a work of art by its material–a ketchup bottle dripping behind lowered pants can have the same evocative and formal power as the Laocoön. Subverter of rigid Pop iconology, McCarthy opens and spills cans of soup to tell the story, like a memento mori, of the inevitable fate of the capitalist icon, destined like any image, culture or biological body, for decay and oblivion. Maybe, meanwhile, having a laugh about it.