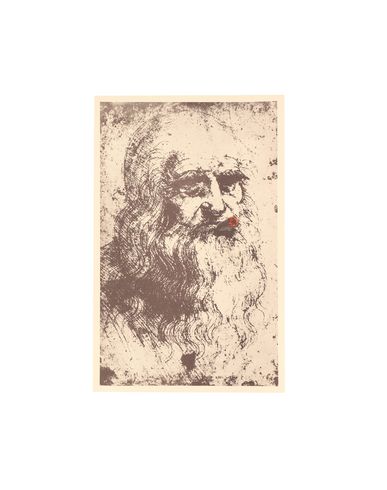 Mona Lisa's Father, 1967 - S.M.S. Portfolio #3
For further information about this artwork feel free to
contact us
This item is excluded from all promotional offers.
COMPOSITION

Paper

DIMENSIONS

Height 17.2 cm,

Width 27.3 cm

DELIVERY TIMES & COSTS

You will receive the artwork in 15 to 20 days.

Due to special handling and documentation, we require a little longer than our usual delivery times.

Returns can be requested within 15 days of receipt of the item.

For detailed instructions please

contact Customer Care

.
DESCRIPTION

SMS # 3: Man Ray, The Father of Mona Lisa Print, 1967 by Man Ray. Ink on paper. 2000-piece edition. Clever ready-made portrait of Leonardo. The SMS Portfolios were a collaboration between William Copley & Dmitri Petrov which they published through their Letter Edged in Black Press, working with some of the most important artists of the twentieth century. The aim was to produce a new form of art journal that would bypass traditional institutions to distribute the artist's work directly to its audience instead.
ARTIST

Man Ray has been defined as a Dadaist, Surrealist, Photographer, Painter, Set Designer, Director, and Producer of Objects. But he remains an artist, albeit indefinable. He can be placed in a historical moment, that of the Avant-gardes, when young people full of life and drive were using ridicule to reestablish a world on the verge of self-destruction. He can be placed in an artistic context, that of Dadaist desecration, which later became Surrealist introspection and projection. He can be placed in the history of photography with the invention of "Rayographs" and the surrealist approach of women-cellos and crystal tears. He can be placed in a network of relationships that ranges from his best friend, Marcel Duchamp, to André Breton, Salvador Dalì, Joan Miró and Pablo Picasso. He can be identified with symbolic pieces such as the iron with nails. But he cannot be contained in any one of these categories. Because Man Ray, in hindsight, is simply Man Ray.