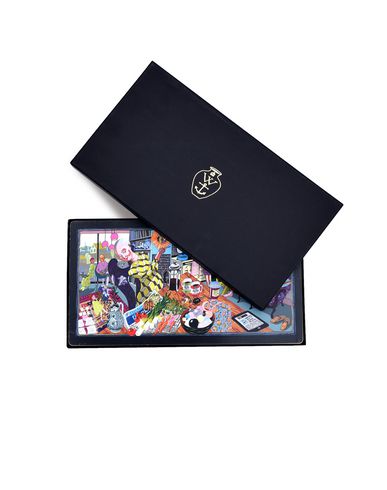 The Vanity of Small Differences
For further information about this artwork feel free to
contact us
This item is excluded from all promotional offers.
COMPOSITION

Melamine

DIMENSIONS

Depth 21 cm,

Height 3.8 cm,

Width 38 cm

DELIVERY TIMES & COSTS

You will receive the artwork in 15 to 20 days.

Due to special handling and documentation, we require a little longer than our usual delivery times.

Returns can be requested within 15 days of receipt of the item.

For detailed instructions please

contact Customer Care

.
DESCRIPTION

Grayson Perry's work is a succession of images that appear to be something they are not. His pleasant and attractive style veils sexual and social themes that allude to the darkest subjects without ever offending but always provoking thought and reflection. The artist disguises himself and his work to draw us in with wit, exploiting contradictions through expressive eclecticism to arrive at a form of communication that is direct and powerful precisely because it is unexpected and unpredictable. Captivating and unpredictable is The Vanity of Small Differences, a set of six placemats made exclusively for yoox.com in which the intended use and the playful design contrast with images of different people living daily tragedies and contemporary vices, like a performance enacted with clarity and dramatic expressive force by this extraordinary protagonist of contemporary art.
ARTIST

Intense and paradoxical, traditionalist and desecrater, popular artist in the anthropological sense and brilliant subverter of cultural conventions. Grayson Perry is all this and so much more. Born in 1960, he is one of the world's most renowned artists: exhibiting in the most important museums and collections and winning the 2003 Turner Prize. He is also an essayist and scriptwriter. Perry was part of the post-punk scene in 1980s London and flatmate of Boy George and the legendary milliner Stephen Jones. Refined cross-dresser and anti-macho theoretician, he collected the Turner Prize as his female alter-ego Claire, an award bestowed upon him for his use of the most traditional of media: ceramics. But his is not just simple craftsmanship: the in-depth knowledge of the ceramic tradition, technical mastery and choice of subjects makes Perry's work the emblem of the captivating and subversive attitude that pervades his oeuvre.