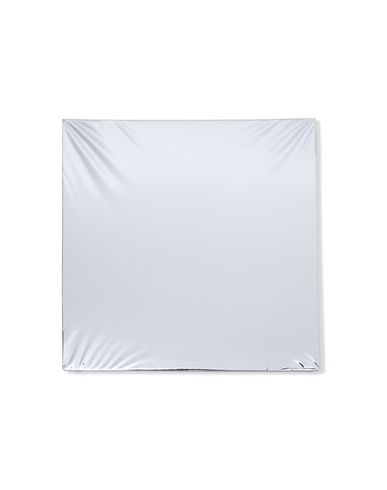 For further information about this artwork feel free to
contact us
COMPOSITION

Aluminium frame, Polyester

DIMENSIONS

Height 40 cm,

Width 40 cm

DELIVERY TIMES & COSTS

You will receive the artwork in 15 to 20 days.

Due to special handling and documentation, we require a little longer than our usual delivery times.

Returns can be requested within 15 days of receipt of the item.

For detailed instructions please

contact Customer Care

.
DESCRIPTION

Untitled, a limited-edition piece by John Armleder, is a mirrored surface in metallised polyester. Not just a mirror but a reflecting object, a poetic instrument at the service of the reality laid out before it. The Fluxus notion of ​​interaction between artist and audience, combined with Armleder's ironic and empathetic vision, makes this work a catalyst of the world surrounding it, of the human presences that inhabit it and of the light that allows its vision. All this is seasoned with a sophisticated elegance recalling the particular type of aesthetics (his parents were Swiss hoteliers) that has characterised the development of John Armleder's career. The transfiguration of the surrounding space, reflected in the piece's deformed irregular surface, is therefore the true subject of this work. The movement, the colours, the light, the presence: all become a work of art in the image returned by this item of minimalist beauty and magical flavour.
ARTIST

John M. Armleder was born in Geneva in 1948 and has exhibited in the most important museums and collections in the world. He is one of the most undefinable artists on the contemporary art scene: first a performer, then a fine painter, Armleder created the Furniture Sculptures series, bringing together examples of design and paintings, as well as installations, murals, sculptures, object stockpiling and interventions brimming with elegance and irreverence. Defined precisely by an aesthetic that lacks definition, he is closely affiliated with the 1960s Fluxus movement that pushed the traditional boundaries of art to make contributions to every possible expressive media, always using humour and the direct involvement of the public. The same elements that John Armleder uses to turn established conventions on their head and offer the viewer an experience even before a meaning, thus avoiding classification and keeping his art in an impetuous and elusive stream of shared consciousness.