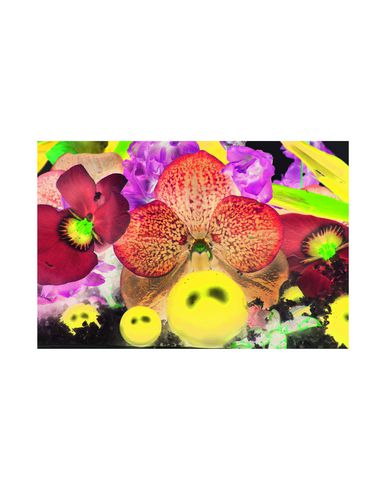 Sepas Mous (in the night garden)
For further information about this artwork feel free to
contact us
COMPOSITION

100% Paper

DELIVERY TIMES & COSTS

You will receive the artwork in 15 to 20 days.

Due to special handling and documentation, we require a little longer than our usual delivery times.

Returns can be requested within 15 days of receipt of the item.

For detailed instructions please

contact Customer Care

.
DESCRIPTION

Quinn's orchid prints explore two persisting leitmotifs of his work – beauty and death. They investigate beauty as it manifests itself in the natural world through flowers, and how it is mediated through human intervention. For his flower pieces, Quinn assembles an installation of blooms, selecting from different continents a wide range of species that would in fact never flower at the same time. The installations are photographed and subsequently digitally reworked by the artist before printing, intentionally accentuating the voluptuous, sensual quality of the plants and flowers. Quinn captures these species at their peak of perfection, rescuing them from natural decay to create a moment of timeless beauty. He intentionally accentuates the voluptuous nature of the plants and flowers. 'Orchids are like perfectly evolved little sculptures in themselves; they're full of colour, interesting shapes and beauty. Even though they are a plant's reproductive organs, they pun on human ones too. They make you realise it is colour, life and sexuality that keeps the world turning'. – Marc Quinn.
ARTIST

Marc Quinn was born in London in 1964. He is a leading figure of the Young British Artists generation of the late 1980s, alongside fellow trailblazers Damien Hirst and Tracey Emin. A "post-human" and anti-classical artist, Quinn has broken down and redefined the relationship between culture and nature with an eclecticism of expressive instruments and great formal rigour. Reaching bloody and provocative extremes without ever pursuing sensationalism, Quinn has stuck to his own original way of representing the contemporary man, from self-portraits made with his own frozen blood to the twisted yoga pose of androgynous beauty Kate Moss and marble sculptures of amputees that break with the ancient world concept of ideal beauty. Marc Quinn presents his vision of humanity with equal intensity in large-scale installations as well as the detail of a sensual blooming flower or a portrait created with bacteria containing the subject's DNA.