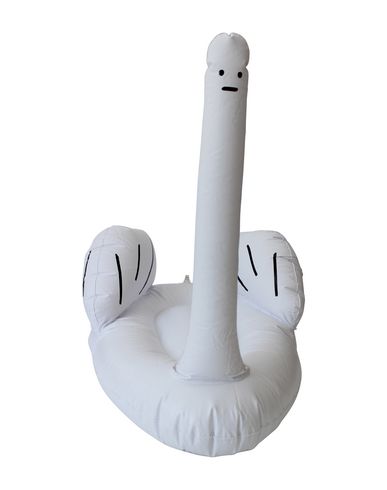 Ridiculous Inflatable Swan Thing
This item is excluded from all promotional offers.
COMPOSITION

Plastic

DIMENSIONS

Depth 60 cm,

Height 80 cm,

Width 90 cm
DESCRIPTION

Ridiculous Inflatable Swan Thing x David Shrigley by Third Drawer Down, a collaboration between Third Drawer Down and British artist David Shrigley. Originally designed as a sculptural piece, cast in heavy polyurethane resin, the David Shrigley Swan-Thing has been blown up, literally. This inflatable swan may be missing the graceful curves true to a classic swan, but with its hand-drawn blank expression and erect white neck, it knows exactly what it is, it is a "Ridiculous Inflatable Swan-Thing". Named lovingly by David Shrigley himself, the statuesque swan stands at 35 inches tall and comprises all that is to love about Shrigley's charismatic work, while also being pool-ready.
ARTIST

The unparalleled David Shrigley. The English artist hails from Cheshire, a fellow countryman of Lewis Carrol's grinning Cheshire cat, and moves like a spinning top through all forms of artistic expression. Comic strip artist, graphic designer, writer, director, stylist. Above all a visual artist in the broadest sense, a Turner Prize nominee and selected for the Fourth Plinth Project, London's sculptural foundation on which he installed Really Good, his temporary personal vision of the concept of a monument represented by a hand in bronze with an erect and disproportionate thumb. Shringley moves with great ease from drawing to painting to sculpture, not least Brass Tooth, a copy of his tooth that he has produced several versions, although it is the first that is most widely appreciated and recognised around the globe. With a synthetic, direct and ironic touch verging on sarcasm, Shrigley is a real graffiti artist with a subversive soul, the successor to ridicule as a form of political struggle and social provocation.