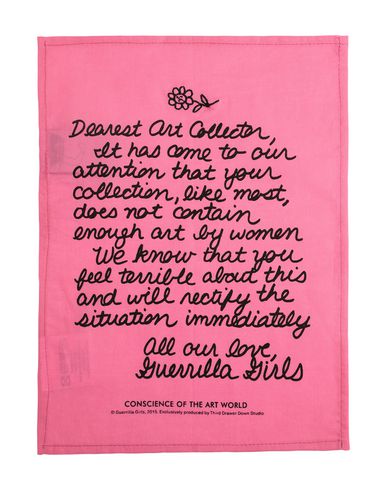 Dear Art Collector Handkerchief
This item is excluded from all promotional offers.
COMPOSITION

100% Cotton

DIMENSIONS

Height 29 cm,

Width 21 cm
DESCRIPTION

plain weave, logo
ARTIST

If you encounter girls in the street wearing gorilla masks, don't panic. These are the unknown and anonymous Guerrilla Girls artists, the iconic feminist group that uses facts, humor and outrageous images to expose sexual and cultural prejudices as well as corruption in politics, art, film and pop culture. Protected by their anonymity, to prevent distraction from the real problems with personal narratives, the Guerrilla Girls believe in a vision of feminism that fights discrimination and upholds human rights for all people and all genders. In thirty years they have produced over 100 street projects, posters and stickers all over the world, including New York, Los Angeles, Mexico City, Istanbul, London, Bilbao, Rotterdam and Shanghai, to name just a few, as well as creating projects and exhibitions in museums, addressing their bad behavior and discriminatory practices on their own walls. Inspiring anyone who wants to follow in their footsteps to do the same!