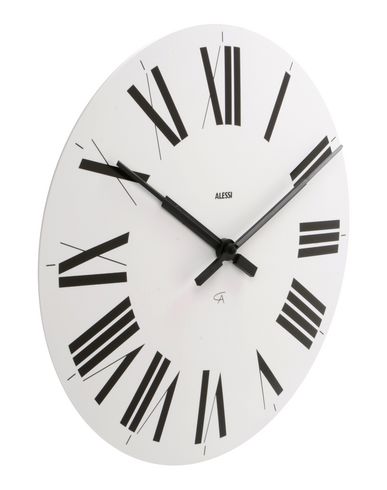 COMPOSITION

ABS

DIMENSIONS

Height 14.04 inches,

Width 14.04 inches
DESCRIPTION

Named after the city in which the prototype was first presented in 1965, at the "La casa abitata" exhibition at Palazzo Strozzi, this clock is a fresh re-interpretation of a classic wall-mounted design. The casing, stripped back to its absolute minimum, highlights the beauty of the dial, which is available in various colors, whilst the adoption of Roman numerals ensures that the design is easy to read. Whilst this piece seems relatively simple, the design was thought out extremely carefully in order to ensure optimal technical and aesthetic results with low manufacturing costs. ABS was chosen as the base material for the clock: easy to mold and therefore suitable for screen-printing in one single operation. The material is positioned on the worktop and flattened via suction (vacuum), and the hands (the mold is designed to allow for a natural curvature during the cooling process) are made from lightweight plastic so as to allow for the use of normal quartz movement.
DESIGNER

Hats off to Achille, Pier Giacomo and Livio Castiglioni, the world's most celebrated Milanese design family. Born between 1911 and 1918, the brothers opened an architecture, urban planning and industrial design studio together in 1940 after graduating from the Polytechnic University of Milan. Livio would go on to leave the project in 1968 to concentrate his talent on design, the fruits of which we all know well. But the projects Achille and Pier Giacomo created together have left a great legacy: they include some of the most famous lamps in the history of design–think the unrivaled and iconic Arco–and fun chairs with unmistakable style like the Mezzadro stool. Key players on the international cultural stage, exhibiting in the most important museums and winning numerous prizes including a total of fourteen Compasso d'Oro, the Associazione per il Disegno Industriale award they contributed to establish, the Castiglioni brothers represent a pinnacle in the history of Italian and global design.